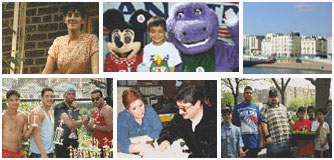 Please note all Jubilee pictures are now on the Jubilee Festival page and all pictures with our Programs are now on our BNA Programs page.
2017 Thanksgiving Turkey Distribution
November 2017 BNA had asked local area markets and businesses for Turkey Donations in order for us to help provide a Happy Thanksgiving for those residents in need. Gourmanoff once again answered our request, along with Fidelas Cares. In total we supplied over 200 low income residents with a free Turkey or Voucher. BNA would like to thank their staff for organizing and executing a perfect distribution and for Gourmanoff and Fidelas Cares for providing the turkeys and vouchers.
2017 Citizen Hurricane Preparedness Workshop
August 17, 2017 BNA held a workshop with the help of the U.S. National Guard's Citizen Preparedness Corps representatives. This workshop was an instructional what-to-do incase another hurricane or any other natural or man-made disaster were to hit our community. We would like to thank the U.S. National Guard for making this workshop possible.
2017 Spring Into Health Workshop
May 19, 2017 BNA held a Health workshop with the help of Walgreens Pharmacy. BNA would like to thank Walgreen's Pharmacist Yelena Katz and staff for helping to set up this workshop. Walgreen's Pharmacy staff was on hand to educate local residents with tips to keeping healthy, as well as check blood pressure.

2017 BNA's 40th Birthday Celebration
May 17, 2017, BNA celebrated it's 40th Birthday, with a little help from some local residents. BNA also took the time to turn the celebration into a community Q & A and took note of the residents concerns and issues.
2017 No Heat Lobby Meeting
March 28, 2017, BNA arranged a Lobby Meeting at 3030 Brighton 12th Street after numberous complaints insufficient heat and hot water. The Landlord Mr. Parlanti, was asked to attend and Lenny Markh, Chief of Staff of Assemblyman Steven Cymbrowitz offered to help resolve the problem. After an hour of tenants complaints. The landlord had agreed to move the sensor which were causing the issues to various parts of the building, as oppose to leaving them all on the 6th floor to get more accurate temperture readings. In addition he will be moving the outside sensor to a more reliable area. He has agreed to work with BNA and the tenants to improve the problem. We will continue to monitor and we appreciate Mr. Markh, Assemblyman Cymbrowitz and the attendance of Mr. Parlanti.

2017 Brooklyn Boulevard ALP Senior Living Workshop
January 12, 2017. BNA held a workshop with the help of Brooklyn Boulevard ALP. We would like to thank Brooklyn Boulevard ALP representatives for conducting a workshop to our seniors. They introduced their new facility in Starrett City which includeds luxurious and spacious 1 and 2 bedroom suites, delicious and nutritious kosher meals and exciting amenities including library, game rooms, media center and much more.